Westec Powder Dosing Systems, Formerly FBI Fiber Binding Inc.

We have been successfully supplying products to the OSB industry since 1996 with our focus on blender dosing systems – please see our Users Reference listing projects in 23 different OSB mills. We make a point of being on site for start-up of our equipment to ensure customer satisfaction while always searching for new ways to improve our systems. Our latest offerings include one bulk bag unloader to service up to 3 blenders. The bulk bag unloading is 'virtually dust free' with pneumatically operated pinch valve, discharge spout clamp and butterfly valves. The hand access box is vented using negative air pressure with a 99.8% efficient dust filter venting system. The bulk bag unloading system comes with a HMI control to ensure that correct steps are taken to eliminate dust emissions while unloading a bulk bag.
Between the bulk bag unloader and the loss-in-weight (LIW) feeders is a powder storage bin with three discharge hoppers. On top of the storage bin is a delumper to break up any lumps discharging from the bulk bag and it also helps aerate the powder for better flowability. There are pneumatic operated butterfly valves on the discharges, automatically controlled by the LIW feeder controls.
The LIW feeders control the powder feed rate into the blender. The feeders are slave driven by a 4 – 20 mA signal from the wood strand weighbelt feeders, proportioning the powder feed rate to the weight of the strands being feed into the blender. The LIW feeders are filled automatically from the storage hopper between the bulk bad unloader and the feeders. The feeder extension hopper is vented using a 99.8% efficient pulse jet dust filter. Our pneumatic conveying system eliminates the potential of leaky rotary airlock feeders by using educators providing years of maintenance free and dust free operation.
Bulk Materials Handling Powder Resin and Zinc Borate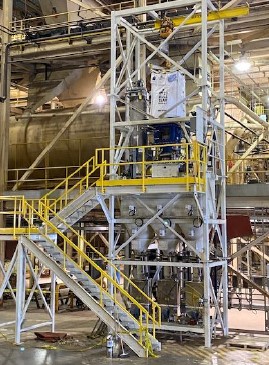 Bulk Bag Unloader HMI Control